Transcription Service - 6. Sending Dictations to Lexacom Scribe – Type User
Sending Dictations to Lexacom Scribe – Type Users
Type users with appropriate permission will be able to select Lexacom Scribe as the transcription option when forwarding their dictation. To use the Lexacom Scribe service:
1. Log in to Lexacom Type
2. Select a dictation from the Typing Pool to be sent to Lexacom Scribe
3. The dictation is now highlighted
4. Click the Forward button
5. Select Lexacom Scribe from the Forward To options
6. Click Forward
7. The dictation is no longer in the Typing Pool and is being transferred to Lexacom Scribe
8. The Talk User will have selected one of three locations for return - this will determine where Lexacom Scribe returns the completed dictation.
Author – The completed dictation is returned to the Talk User for approval
When the Talk User has approved the dictation it is sent to the Typing Pool with the status "Approved Transcriber to Dispatch". To access the approved document, select the Document Icon.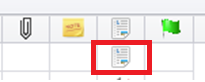 When completed select the dictation and dispatch
N.B . If the document requires further amendments but has been approved in error, click "Yes" to dispatch, locate the item in your tracking and retrieve.
Typing Pool – The completed dictation is returned to the Typing Pool for a Type User to review
The dictation status is "Returned for Review" - it is ready to be reviewed and loaded from the typing pool as normal.
When opened, the transcribed document will load automatically.
A specific Type User - completed dictation is returned to a named indivudual
For further information on returned dictations see Lexacom Scribe - Returned Dictations
Created: 4 Dec 2018 16:16 GMT Updated: 5 Dec 2018 10:37 GMT